Dissolving the Ego of Fashion
Agenda
November 22, 2018 – January 10, 2019
Research
April 08, 2019 – April 12, 2019
conference
Essay
Re-Thinking Circular Design
The Case of Vlisco's Emotional Durability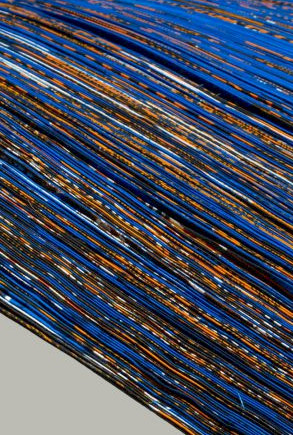 By Zinzi de Brouwer
The research Re-Thinking Circular Design: The Case of Vlisco's Emotional Durability is a collaboration between ArtEZ Fashion Professorship, Centre of Expertise Future Makers, Vlisco, Simone Post, Saxion and Modint. It aims to reframe and rethink views on circular design strategies in a Western fashion discourse by diving into what emotional durability signifies when it comes to Vlisco's textiles, touching on the multi-cultural dimensions of the Dutch textile company as well as modern reinterpretations of its textile products.
In Jonathan Chapman's words, "emotionally durable design explores the idea of creating a deeper, more sustainable bond between people and their material things…in which users and products flourish within long-lasting empathic partnerships".1 Chapman suggests, as humans, we only foster interest in things when they continue to have meaning, proposing we consume meaning not matter. This interest can only remain meaningful when they adapt to our changing desires and values. If we understand emotional durability as a bond between subject and object, Kristine Harper2 takes a step back by referring to the aesthetic durability in which emotional durability is seen as an extension. Harper discusses the need for aesthetic nourishment to keep consumers emotionally involved with their product as long as needed as to keep repairing or reusing the product. We all share psychological traits in which we can, universally, pinpoint when we experience something to be beautiful. We tend to resent the old and the worn-out which poses an interesting question on what our relationship is with beauty. Harper proposes a product must have aesthetically sustainable value in order to trigger the user. For designers, she defines the aesthetic strategy modelin order to cater to this aesthetic nourishment within a target market. She interprets the emotional attachment as an individual and sentimental value towards an object from a subjective point of view. Aesthetic sustainability is thus seen as a universal approach to designing and utilising a product and could very well be key to strengthening an emotional bond with a product.
As a precis of the literary investigation into this subject, designing for emotion is becoming a primary driver for longevity. The concept of time and memory3 , and defining how objects can stand the test of time, surpassing the honeymoon phase, as stated by Chapman, becomes a crucial trigger to how we treat products. Memory herein can be seen as a way to stimulate product attachment through emotional bonding. In Kenya Hara's book White, he further explains how slow engagement, detail and the understanding of the senses can lead to an emotional negotiation with an object.4 Similarly, Harper mentions the designing of magical things, in which products become carriers of events and emotions. If we tackle the act of recycling within circular design strategies for instance, fashion objects can very well be about celebrating humanity in which re-enchantment and re-discovery become important values in consumption. This leaves a lot of room for thought on how to apply it in the cultural dualism Vlisco's textiles exist, and how ultimately, consumers can relate to fashion in an emotionally durable way. For the purposes of this research, a field trip to Abidjan will be made in November 2018.
This is an excerpt of the literary research conducted for the purposes of this research which is a KIEM-project funded by SIA.
The following titles are being utilised as references for this research:

Jonathan Chapman, Emotionally Durable Design: Objects, Experiences and Empathy.
Kate Fletcher, Durability, Fashion, Sustainability: The Processes and Practices of Use.
Kristine Harper, Aesthetic Durability.
Jimenez, S., Pohlmeyer, A.E., & Desmet, P.M.A., Positive Design Reference Guide.
For more info on the project, please visit futuremakers.artez.nl.
1

1 Jonathan Chapman, Emotionally Durable Design: Objects, Experiences and Empathy, Oxford: Taylor and Francis, 2012, p. 21.

1

2 Kristine Harper, Aesthetic Durability, Leiden: Taylor & Francis, 2018.

1

3 "There is a secret bond between slowness and memory, between speed and forgetting. A man is walking down the street. At a certain moment, he tries to recall something, but the recollection escapes him. Automatically, he slows down. Meanwhile, a person who wants to forget a disagreeable incident he has just lived through starts unconsciously to speed up his pace, as if he were trying to distance himself from a thing still too close to him in time. In existential mathematics that experience takes the form of two basic equations: The degree of slowness is directly proportional to the intensity of memory; the degree of speed is directly proportional to the intensity of forgetting." Milan Kundera, Slowness.

1

4 Kenya Hara. White. Zurich: Lars Müller Publishing, 2014.
DATE PUBLISHED
November 14, 2018